The Wish Pokémon is here to help celebrate 20 years of Pokémon throughout April!
The Pokémon 20th celebration continues with a month of Jirachi fun! Until April 24, don't miss your chance to receive the Mythical Pokémon in your Pokémon X, Pokémon Y, Pokémon Omega Ruby, or Pokémon Alpha Sapphire game via a Nintendo Network event. Also check out the Pokémon TCG: Mythical Pokémon Collection—Jirachi, featuring a pin and a promo card of the Wish Pokémon, as well as Pokémon TCG: Generations booster packs.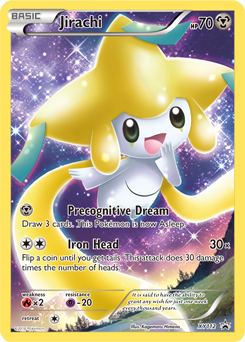 And be sure to stop by participating Toys"R"Us stores to take a look at limited-edi tion 8" Jirachi plush and 2" Jirachi figures. These special items will be available only while supplies last!